today, we enjoyed a relaxing-family-day!
and guess what?!
it's been raining
aaaaaall
day.
i'd almost forgotten what those rainy dayz were like.

oh, how i've missed them!

when taken for granted, rainy dayz have the potential to be cumbersome...
in the midst of the daily grind.

when they are few and far between...
mom might tell you to go outside.
and you might look at her, like... huh?!

then...
one free-spirited child might dash out the door, without hesitation.
the other might contemplate it, then decide it would be okay...
with umbrella in hand.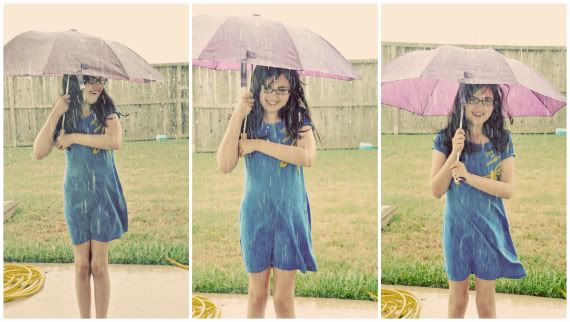 these pictures captured our second shower over the summer.
there were maybe 3, total.
this one lasted 5 minutes.
literally.
then disappeared as quickly as it came.
the first shower, very light, lasted 2 hours.
and we wonder why our grass is not the plush lawn of our dreams?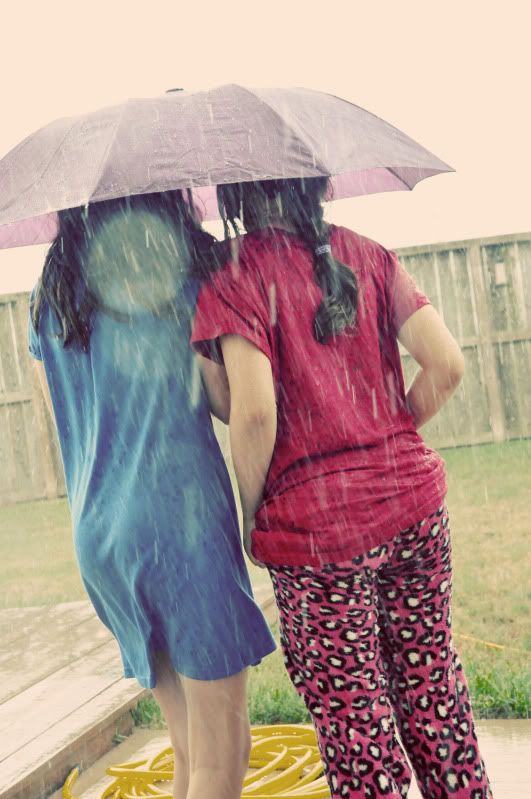 even a 5 minute rain shower is something to get excited about in this texas drought.
today, the girls played on the trampolene for a few minutes. rain was no deterrent. then, they had an unexpected play date, when a friend needed me to keep her kids.
all had a blast this afternoon...
in the midst of the rain.