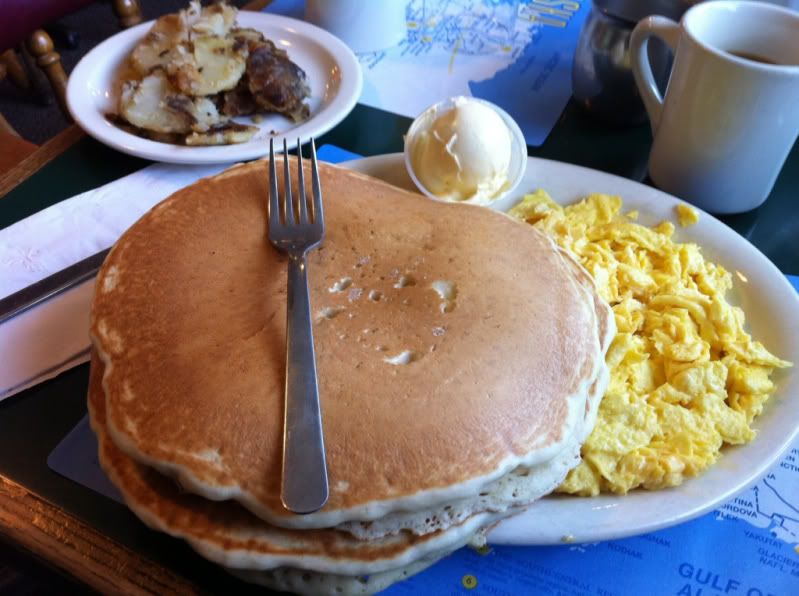 after a full week, we were tired, y'all. so we slept in. past the hotel's breakfast time. hubs told me about a place that sold pancakes bigger than your plate, so i had to see it for myself. crazy, right? hubs and i split one. they were pretty yummy.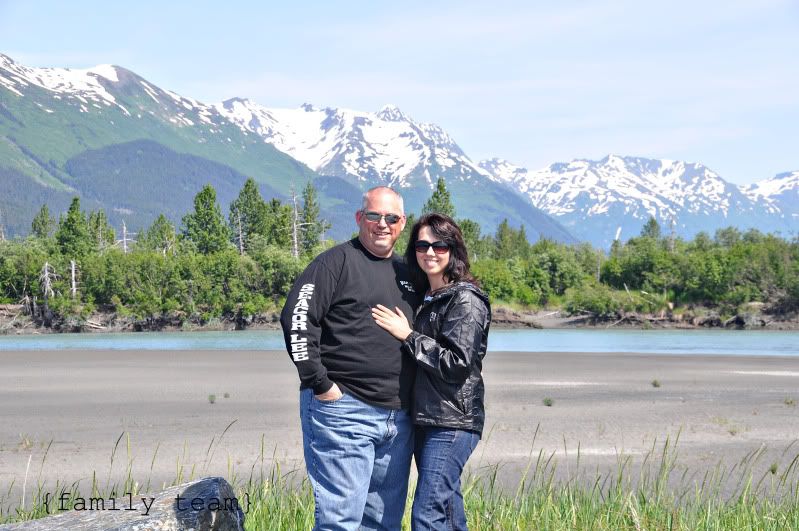 next we took another short road trip along the scenic seward highway from anchorage to the
wildlife conservation center
. a center caring for orphaned and/or injured animals.
although... i did wonder how they accumilated so many deer skins to sell in their gift shop.
were these animals they couldn't rehibilitate??
inquiring minds want to know.
or maybe we don't?
*gulp*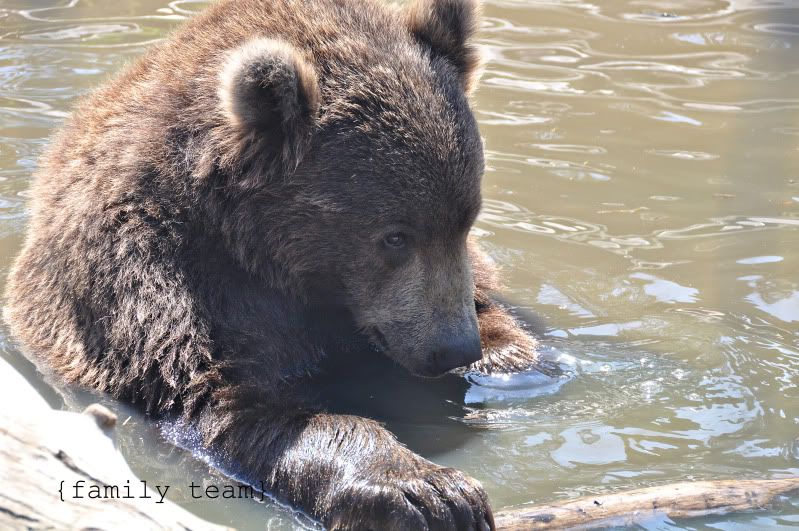 we watched this orphaned kodiac cub play in the water
like any clumsy house pet we've ever owned.
so stinkin' cute.
but no worries.
you won't find me feeding the bears.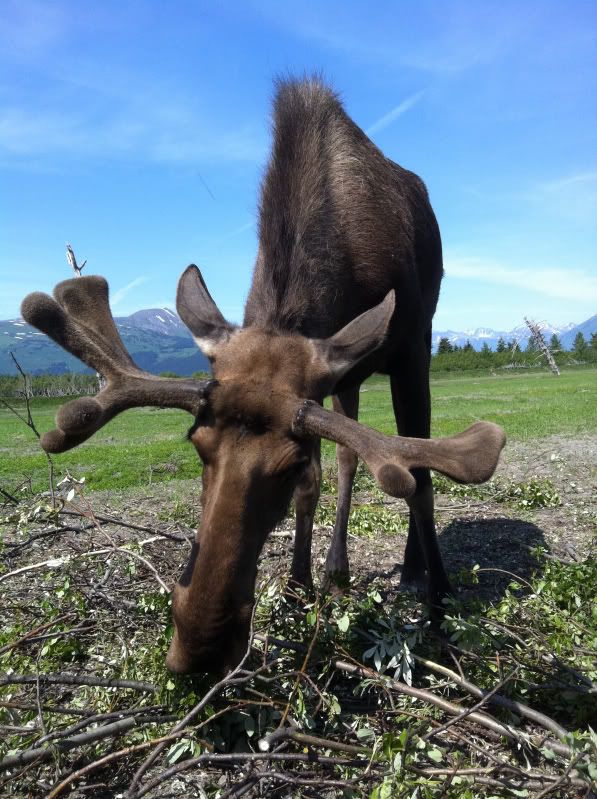 there is a tiny wire fence separating us from most of the animals.
we watched this moose eat for quite some time.
he didn't let us disturb his lunch.
when getting eye level with one of the big caribou,
i was reminded just how tiny the fence was.
he must not have liked that.
when he stood up, inches from my face, i suddenly realized this lil' wire fence wouldn't hold his massive frame back... if he really wanted to come after me, that is.
he didn't seem to mind me reaching in to touch his huge antler, though.
i couldn't resist the temptation.
it felt soft and fuzzy. kinda like kiwi.
good thing they shed those occasionally.
the weight of it would have me dragging my big head around.
for sure.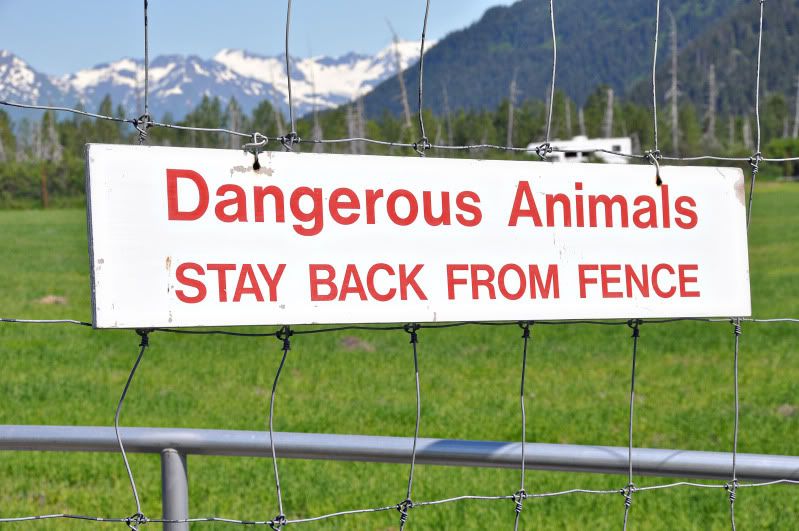 so after reading this sign...
do you notice anything funny about this picture below?
i was kinda hopin' the fence was left open on purpose.
yeah.
that makes me feel better.
wood bison.
they're pretty
important to alaskan history
.
between the fur, to keep you warm
and the fact that they are great grazers.
after visiting and reading about the animals that reside here,
we headed over to girdwood to visit the
alyeska resort
and
ride the tram
up the mountain.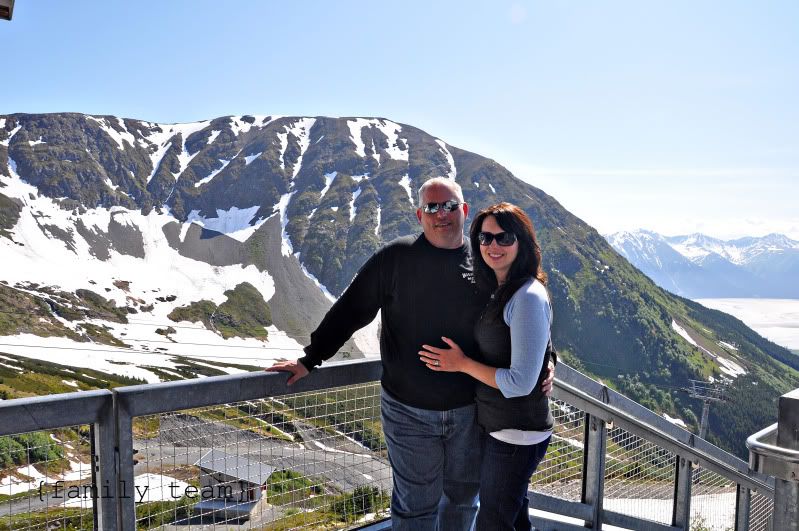 it was the warmest day, yet we found ourselves standing in snow.
crazy, right?
so much fun.
but you had to be careful up here.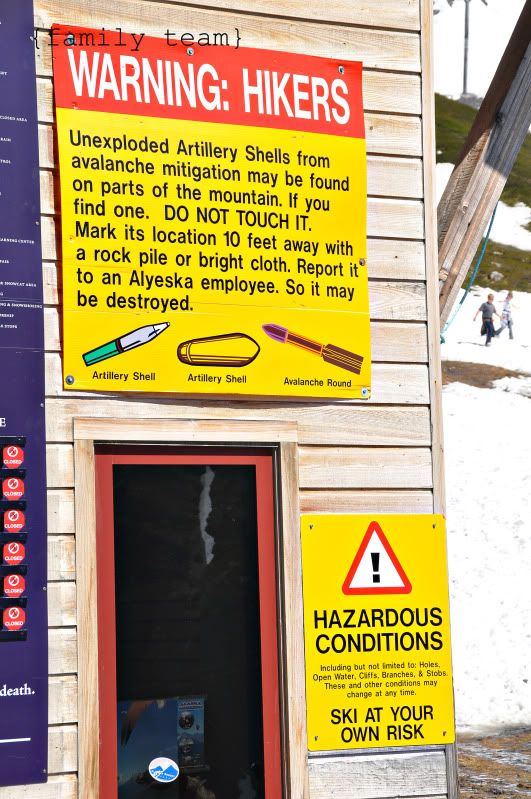 there were drop offs and hiking trails.
not to mention the bears.
we saw a black bear from the tram on the way back down.
apparently, it's not uncommon to find one roaming the resort.
ummm... i'll pass.
hubs made me move for fear that i would fall down the mountainside,
trying to capture the perfect shot.
*giggle*
we headed inside for a bite to eat with these crazy beautiful views.
apparently many are great for skiing.
that's something i've never tried.
maybe one day.
we headed back down to anchorage to meet up with friends
at the
glacier brewhouse
.
yummy.
friends that loaned us their car for the week.
again, so thoughtful.
and generous.
one of the many blessings that made this trip affordable.
{
day 1
}
{
day 2
}
{
day 3
}
{
day 3 part 2
}
{
day 4
}