our girlie nights vary from week to week... or night, depending. distraction is key. with the number of nights hubs has been out of town on business, mama needed to think of something...
ahhh... spa night!
too bad hubs missed out on this one. in our ancient history lesson today, we learned that in india it was a sign of manhood and bravery for boys to have painted nails. maybe that could have convinced hubs to join us? then again... maybe not.
the girls were so excited. truthfully, i was a lil' pumped about it, too.
it twas a very busy day, indeed.
thankfully, i had already determined that morning that it didn't matter how messy the house was by the end of the day. when it was spa time, mama was going to ignore all that had not been accomplished. i mean... the overloaded checklist is not going anywhere, right?
truthfully, we
did
manage to get a lot done today. no matter what the house looked like. it was time to kick our heels up.
sometimes... life demands us to take note of the fact that we need to giggle more.
smear banana on our faces.
paint outside the lines.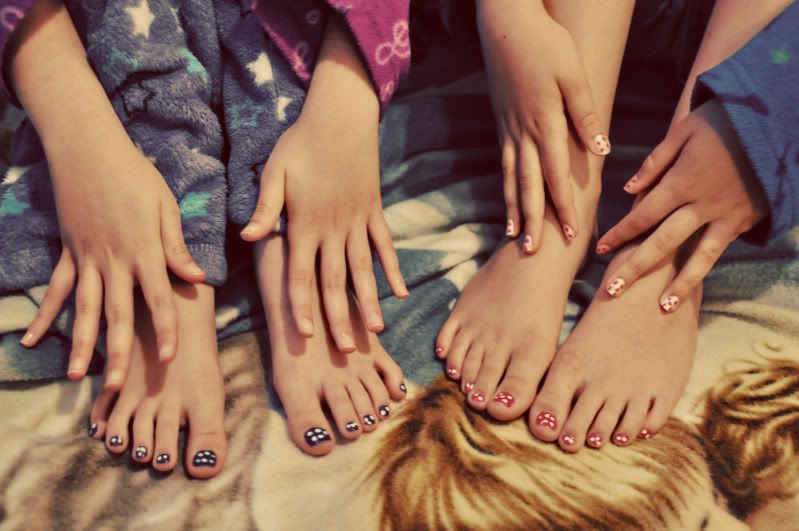 or have fun with polka dots.
laugh.
watch little house on the prairie.
then
sharpay's fabulous adventure
.
makes sense, no?
the girls are tucked into bed...
smelling of freshly shampooed hair, banana, and nail polish.
i'm soon to follow.
after i make sure the tooth fairy has done her duty in gracie's room tonight.
silly tooth fairy.
she's been tardy before.
maybe two or three times.
we forgive her.
we know she's busy, too.