we picked hubs up from the airport on friday... sandwiched between gracie's hip hop class and preparing for a garage sale.
i know. i never thought i'd have another one. it turns out when you procrastinate long enough... well, eventually you'll end up with too much to haul to the salvation army. no worries, though. my mom-wagon is loaded with left-overs for the cause.
where was i again? oh... yes, hubs.
he keeps quite the schedule. i know that i was not built for his schedule. i do well to keep up with the one i have. and although we gals like to do things, we long for the stay-at-home days the most...
most days.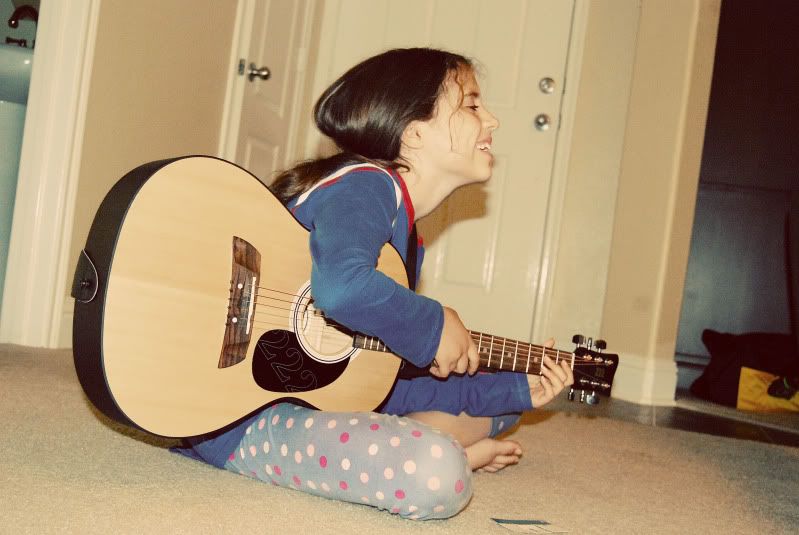 hubs. he was taking a business call at midnight last night. my heart doesn't skip a beat with middle-of-the-night calls anymore since he's been in this line of work. it's just par for the course. tech-savvy jobs are always on call.
don't get me wrong. having a tech-savvy husband has its perks, too. i know who to call if there's a glitch. he's usually great about not making me feel completely silly if the solution was something obvious. umm... to him, that is. ;)
i've informed him that he's in charge of teaching gracie's guitar lessons and all computer courses. you know, since i'm in charge of teaching them how to read, write, solve equations, learn from history, the function of dendrites, and the everyday daily grind. ;)
he works hard, but squeezes in quality time as best he can. like here. he taught gracie the g chord before leaving out of town. she was oh-so-proud to show nator and me all week. sweet girl.
we are all looking forward to the next lesson. you know... another chord. ehem.
just excuse the glowing bella eyes and piles of mess. soak in the tender moment instead.
we do sort of a tag-team garage sale. mama organizes and prices. dad works the sale. he's much better at saying good-bye to our things. they're just things, i know. hubs has to remind me that we're not selling the memories. see? he's much better at this.
i love having him home.
not only did he get to help with a garage sale...
he got to kill a bug, too.
hahhh...
life is good.