welcome to our bloggy... err... i mean, our instagram feed.
at least, that what it seems to be as of late.
here's the rundown of our last two weeks. two weeks? where does the time go??
hubs took the girls to work for a bit. i think he bought them frozen yogurt, too. mama would be jealous, but mama enjoyed quiet for a couple of hours. at home. alone. qui-et.
gracie dressed and organized her american girl dolls for a henry viii and wives family reunion. heads attached. ;) too cute!
not as cute? mama at the gym. finding a food/exercise routine again is proving to be more than challenging. gone are the days in which the girls' routines rotated around mine... now i'm chasing theirs. and it keeps changing. oi.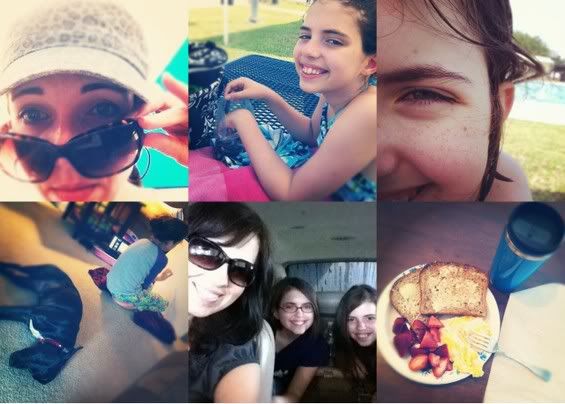 pool play-date with a load of homeschoolers anyone? how about some math? and several hours of it to complete a relaxing day? if that doesn't work, how about an afternoon of running errands through congested traffic due to construction? i have it...
how about a surprise breakfast, compliments of a certain 10 year old, to celebrate a new holiday made up by said 10 yr old... national homeschool teacher's day? yep. that will do it. hahhh...
pool. math. errands. pool. math. errands. not necessarily in that order. noticing a theme?
oh, wait. yummy vanilla from mexico, compliments of friends who happened to be passing that way. nom-nom.
assisting dad at the theater for work-day. seeing a show. nunsense, to be exact. taking performance pix.
gracie found a sign for a bald spot in our kitchen. tempting, but we passed.
organizing shelves and school papers from our year. i predict i'll be going through them again for the coming year. homeschool + bookshelves = the project that never ends.
at least i came across a gym of a paper nator wrote.
list of rules:
1. i can read wherever whenever i like.
2. love one another with hugs and kisses.
3. wear modest clothing.
4. play piano when i like to.
5. help the homeless and hungry.
6. let the cat in my room when it's clean.
7. love people big and small.
8. i can hug and kiss gracie (when she's in a good mood).
9. care for all creatures, but vampires.
10. LOVE ONE ANOTHER X2!
time with friends on july 4th. an annual tradition. love.
hub's birthday was celebrated with the news of work needing to be done on our 'good' vehicle, adjustable weights, homemade cards, and for a lil' balance... marble slab. nomnom.
our last event was a much anticipated girlie gathering. more on that soon...
but not to be outdone by the excitement of a new dictionary. never-ever-ever thought i'd see the day in which gracie would be jumping up and down over a dictionary. harry potter edition, that is.
so how is your week?